We just passed the one year mark here in Arizona. What a year it's been! There, for sure, have been some hard moments, and we miss parts of living in the city like crazy, but overall, we're so happy and grateful for this past year. Mostly, it has been
wonderful
to live so close to family and of course I've loved getting to turn this house upside down! I can't believe how much has changed since last July. The exterior was the most recent big change and I'm so happy with how it turned out!
Benjamin Moore
, a company I love and support whole-heartedly, saw that we were planning to paint our house and reached out about donating the paint. What an AMAZING help that was! The house needed a ton of prep work before the paint, and we made some big changes to the exterior structures with a contractor, so the labor alone ended up taking most of our exterior budget. Getting to work with Benjamin Moore on the paint was a dream come true! :) But I'll get to that in a minute. Here's the story of how the exterior of our house has changed this year, and a few plans for finishing up.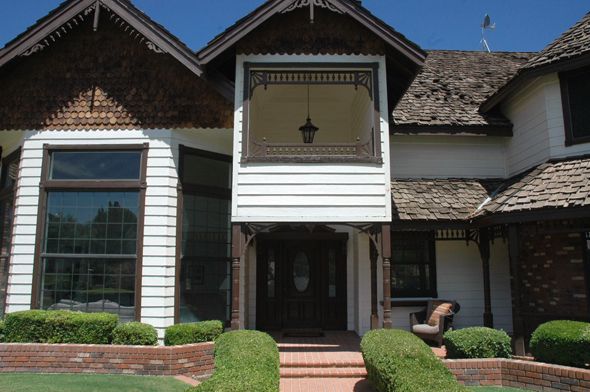 Remember when the house looked like this? Gingerbread everywhere. Cream body and brown trim. Black, scary sun shades on all the windows (which are helpful for keeping out the sun, but man, are they UGLY!).